Welcome to the live stream page of the Perspectives on the Role of the RNID and Evolving Developments Seminar Series.
The Faculty of Nursing and Midwifery, in partnership with the Nurse Managers Association for Intellectual Disability, are delighted to present a series of free seminars to exchange, share and celebrate the expertise of the Registered Nurse Intellectual Disability (RNID).
This seminar programme will be live streamed below from 11:00am – 12:15pm on the 28 April, 26 May and the 16 June.
Please sign in to the video player below with your email and name to verify your identity. Download the delegate programme for the 28 April here.
We recommend using Google Chrome (PC) or Safari (Mac) as your browser to view this live stream and participate in the chat. Please note Internet Explorer does not support live streaming video. Please scroll to the bottom of the page for our full list of troubleshooting tips.
To view the chat function, please log in to chat as a guest. This will enable you to ask questions and discuss the issues raised with other viewers.
SEMINAR 1: 28 April 2021- An Overview of the Changes in the Professional Role of the RNID. Updates from the Republic of Ireland, Northern Ireland and the UK.
Speakers in this seminar include:
Master Pádraig O'Callaghan, Host of the Monday Motivation Paudcast
Ms Tanya King, Deputy Chief Nursing Officer, Department of Health
Ms Judy Ryan, Director, Nursing and Midwifery Planning and Development South East & National Lead on Implementing Shaping the Future Strategy
Professor Owen Barr, Professor of Nursing and Intellectual Disabilities, School of Nursing, Ulster University, Londonderry, Northern Ireland
Mr Jim Blair, Independent Consultant Nurse Learning Disabilities, Associate Professor Intellectual (Learning) Disabilities at Kingston University and St Georges' University of London, Patron of Dance Syndrome and Chair of the Royal College of Nursing London Board
Programme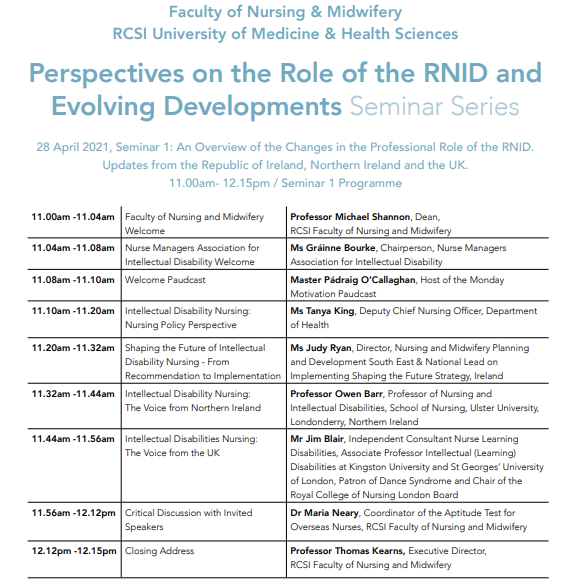 Trouble Shooting
We constantly monitor the live stream on multiple devices in a variety of locations to ensure it's quality. If there is a problem with the stream we will let viewers know immediately in the chat box. If you are experiencing problems viewing the stream and there is no announcement in the chat, the likelihood is that the issue is local rather than general. Here are the most common issues viewers encounter:
Browser: Please do not try to watch this stream using internet explorer. Internet explorer does not support live streaming, we recommend using Google Chrome (PC) or Safari (Mac) as your browser to view this live stream and participate in the chat.
Internet speed: The most common issue viewers face is a weak or unreliable WiFi/Broadband signal. If your signal is weak and dropping out the video will keep freezing or buffering. Check your internet connection using Which Broadband Speed Test. A download speed of 3mbps or higher should mean you are able to play the video. In the worst case scenario try sending the link to this page to your mobile phone and disconnecting your phone from WiFi. If your phone has a good 3G or 4G signal, you should be able to play the video.
Firewalls: If you are attempting to watch this live stream on a device provided by your hospital/employer there may be a built in firewall that blocks live streaming video. This is especially common with devices provided by healthcare organisations. If this is the case please try using your own personal laptop/tablet/phone.
Other wifi users: If you are viewing this live stream from home and other members of your household are also using the WiFi to download files, watch live streaming TV such as Netflix or play online games, this may put undue stress on your WiFi and effect the quality of your stream.
Cloud Services: Live streaming video does not function in many cloud services. Come out of your employer's Cloud/IT system and open this in an external browser.
Memory: If your device is struggling for memory space the live stream will not play correctly. Reduce the number of other windows and tabs you have open and shut down all unnecessary programmes other than the ones you need to watch this stream.
Battery: Make sure your device is plugged in or has plenty of battery!
If you are experiencing any issues and would like to speak to us please contact Paul Rushworth on +44 (0)7709 145 234 or email paul@narrowcastmedia.co.uk.